Saltash Student Leadership Team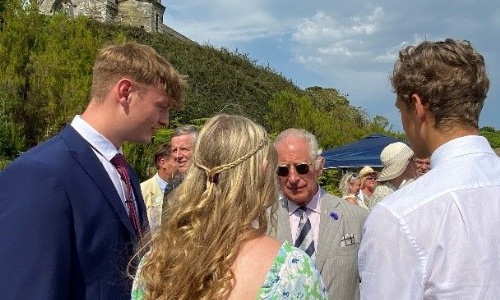 Both Leon Strike and I were nominated and chosen to celebrate Her Majesty the Queen's Platinum Jubilee and the anniversary of HRH Price Charles' accession to the Dukedom of Cornwall at a garden party at Boconnoc House recently.
We were both invited to this event due to the nomination Mrs Gallie kindly made, highlighting our leadership skills as part of the Saltash Student Leadership Team and the impact we have had on Saltash Community School as former Head Students. Within the process of choosing the guests to the Garden Party, many nominations were sent in and Leon and I were lucky enough to be successful.
The event was amazing. As we arrived at Boconnoc we were served drinks and platters of food were being brought around. Leon and I had the opportunity to meet lots of wonderful local leaders who have all had such a positive impact on our Cornish community, for example volunteers through COVID and people who have set up different organisations in order to help those in need.
Prince Charles and Camilla attended this event where they spoke to different groups of people and also to us individually. As young leaders, we were fortunate enough to shake Prince Charles' hand and talk to him about our involvement in student leadership and our future plans. What an experience! Prince Charles then went on to make a speech and cut the cake.
By being given this opportunity it has made both Leon and I very proud of our achievements and it feels lovely to be recognised by our school, the Trust and Cornish community. This opportunity has meant that both Leon and I have been able to meet Prince Charles and gave us the chance to meet with a network of other young leaders within Cornwall.
Leon and I have said how amazing this whole experience was and one memory we won't ever forget.
By Amy Kowalski, Head Student, Saltash Community School.