Tenacious Students Succeed at Saltash!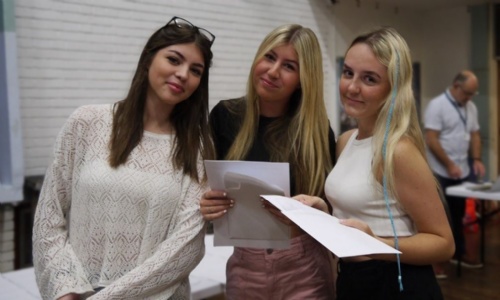 Students at Saltash Community School have achieved a great set of results this year, against a national backdrop of falling outcomes, with many performing at the highest level. Amongst our top performers was Evie Slaughter with an outstanding seven grade 9s, one grade 8 and one grade 6. Gina Parry has also achieved exceptionally, securing three grade 9s, one grade 8, four grade 7s and one grade 6. A huge shout-out must go to Caiden Masters-Davies, one of our Area Resource Base students, who achieved grade 6 in Computer Science, grade 5 for Double Science and grade 5 in Maths – a brilliant set of results of which he should be really proud, and demonstrative of our commitment to a fully inclusive education for all.
We are delighted to congratulate our Art students on a really strong set of results; one quarter of the cohort achieved grades 9-7. Likewise, our Sports Studies results are once again, outstanding, with 40% of all grades at Distinction * / Distinction level.
Scott Wieprecht, Head of Year, said: "I am incredibly proud of all the year group have achieved. After two years of largely disrupted education, impacting the majority of their Key Stage 3, the year group worked hard in Key Stage 4 to focus on their learning. The students have been a shining illustration of the fact that if you work hard, you will achieve, and get the results you deserve."
Headteacher, Kate Littledyke, added: "Our students should be proud of so much more than just their results today: they have been an incredible group of young people that have spent the last five years growing as individuals and supporting each other as a team. I wish them all the greatest success as they continue their learning journey, and I am delighted to be welcoming, so many back into our Sixth Form."