Year 9s Develop Skills at Careers Carousel Led by FutureFirst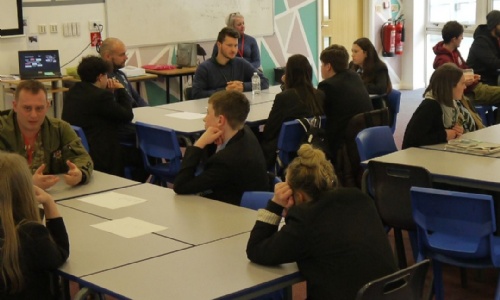 Saltash Community School's Year 9 students had the privilege of attending a Careers Carousel event led by FutureFirst on Friday. This event provided an invaluable opportunity for our students to meet with former students and local employers and to discuss their work experiences since leaving school. The event helped them to gain insights into different job roles and industries, and to ask questions about the various career paths available to them.
We were fortunate to have employers from a range of sectors, including the Army, Navy, Plymouth Argyle, Babcock, Waitrose & Partners, and Peninsula Medical School. Each employer provided valuable information about their respective industries and answered questions from our students.
This event was the first of its kind for our Year 9 students, allowing them to develop important skills such as communication and networking, which will serve them well in the future. The experience also helped them to make informed decisions about their GCSE options and future career paths.
Saltash Community School is grateful to FutureFirst and the employers who took the time to share their knowledge and experience with our students. We hope that this event will inspire our students to pursue their career goals with confidence and determination.